Andrews, Hammock, & Powell, Inc., is a full service mechanical and electrical engineering firm. Our mission is to develop high quality designs and specifications that are appropriate to the client's needs, budget, and schedule.  We pride ourselves in delivering exactly what our clients want and need, and our central Georgia location puts us a short driving distance from anywhere in the state of Georgia and many parts of neighboring states.
With over 30 years of experience and thousands of successfully completed projects AH&P has the experience and expertise to make your project a success. AH&P works mostly in Revit and AutoCAD and has Microstation capabilities as well. We offer the following design and construction administration services:
Mechanical – HVAC & Refrigeration
AH&P offers a full range of HVAC system design capabilities for institutional, commercial, and specialized industrial systems.  We have utilized every type of HVAC system including wall hung packaged units, water source heat pumps, geothermal heat pumps,  chilled/hot water systems, DX split and packaged systems, etc. on various projects.  Our broad experience allows us to advise the Owner of the advantages and disadvantages of various systems.  Together we will select the system that is best for the project. Additional design services include:
Heating, ventilating and air conditioning systems
Below and above grade Central Utility Systems (steam, high temperature hot water, chilled water)
Cooling tower and chilled water systems
Piping systems (steam and condensate high and low temperature hot water, chilled water, steam, refrigerant, brine, etc.)
Industrial exhaust, ventilating and collection systems (fume hoods, exhaust hoods, welding, dust, paint booths, process exhaust etc.)
Commercial, medium and low temperature refrigeration systems for storage (R-502, ammonia)
Refrigeration systems for process cooling or freezing including blast freezing applications
Automatic temperature controls (ATC) systems, including direct digital controls (DDC)
Energy management and control systems (EMCS)
Technical assistance studies (TAS)
Energy Audits (EAs)
High efficiency particulate absolute (HEPA) filtration systems
Animal and insect rearing facilities environmental systems
Laminar flow air distribution systems and special filtration for medical/surgical facilities
Evaporative cooling systems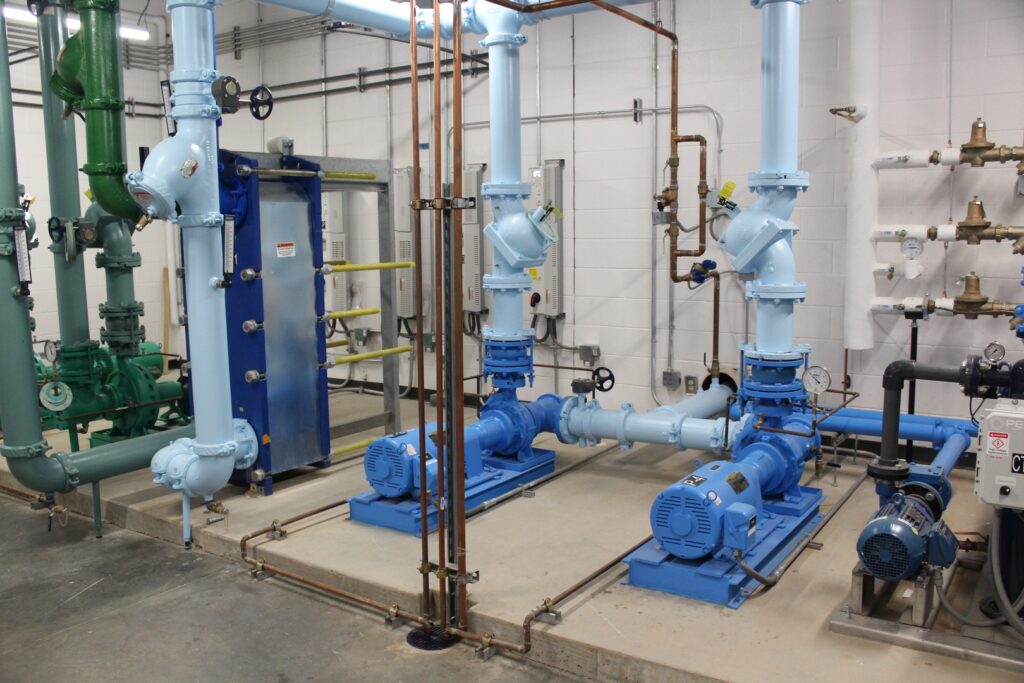 Electrical
Electrical power distribution systems (both overhead and underground)
Lighting systems (interior and/or exterior)
Sports lighting systems
Primary distribution systems to 35 kV (both overhead and underground)
Communication systems (telephone, public address, television distribution and intercom)
Media retrieval systems for educational facilities
Fire, security and intrusion alarm systems
Controls and instrumentation systems
Computerized control systems
Uninterruptible power supplies
Standby, emergency and cogeneration/peak shaving generator systems
Lightning protection systems
Special Electrical Systems (e.g. isolated power systems) computer power, etc.
Computer Networking Systems
Plumbing & Fire Protection
Conventional plumbing systems
Compliance with Life Safety Code (NFPA 101)
Wet/dry pipe sprinkler systems
Building service utilities
Central Utility Systems
Industrial plumbing systems
Process piping systems (acid waste, compressed air, vacuum, high pressure water systems, washdown oil, solids handling, etc.)
Medical and process gas systems (oxygen, nitrogen, air, vacuum, nitrous oxide, acetylene, LP gas, natural gas, etc.)
Water Purification systems (deionization, demineralization)
Special hazards systems (halon, dry chemical, deluge systems)
High expansion foam fire protection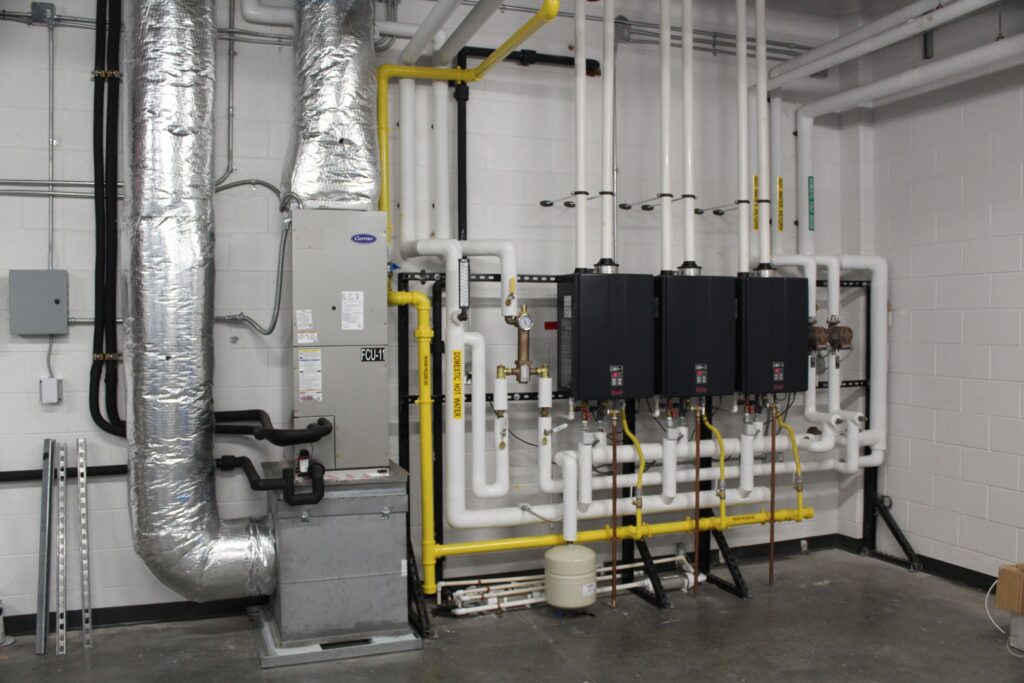 Commissioning
AH&P is certified by the National Environmental Balancing Bureau (NEBB) in the disciplines of Building Systems Commissioning (Cx) and Testing and Balancing (TAB).  AH&P currently has two NEBB Certified Professionals and one NEBB Certified Technician on staff.  Our Certified Professionals, Certified Technicians, Engineers, and Designers are members of NEBB, USGBC, ASHRAE, NFPA, NICET, IEEE, NAIES, ASPE and several other professional organizations. AH&P's Cx/TAB Department is unique because of the broad knowledge available among AH&P's Engineers combined with the field experience of the NEBB CP's and CT's. AH&P's Cx/TAB department maintains a full set of highly accurate instruments which are calibrated on a regular basis. The accuracy and resolution of the instruments meet NEBB's strict specifications, and AH&P's Cx/TAB department utilizes these instruments to diagnose hidden issues within building systems.
Construction Administration
AH&P has a full time construction administration department.  Jim Hughes, P.E., heads this department.  He and his staff visit our projects one to four times per month to insure the construction materials and workmanship comply with the contract documents.  Jim also expedites submittal reviews, answers to requests for information (RFI's) and change order review and approval to keep the construction process moving and on schedule.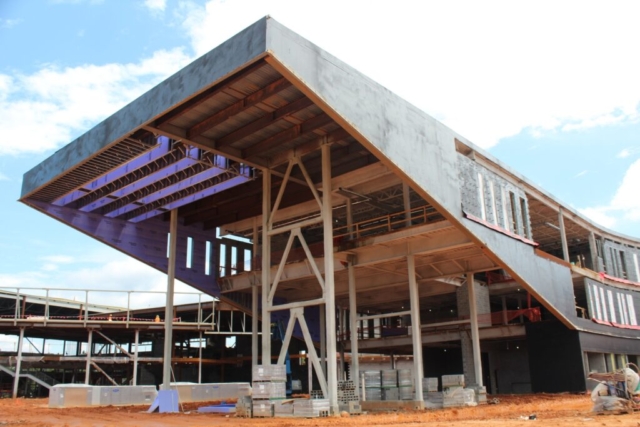 Geothermal
AH&P offers a variety of engineering and technical services to Consulting Engineers, Architects, Owners, Contractors and other Clients to help insure the long-term successful operation of Geothermal Heat Pump (GHP) Systems (sometimes referred to as Ground Source Heating and Cooling (GSHC) or Geo-Exchange Systems). In the Engineering arena, we provide design services from Ground Loop Heat Exchanger (GHX)-only modeling/engineering, to the integrated design of the entire GHP/GHX system inside and outside the building.  We also provide Research, Development, Engineering and Demonstration capabilities for advanced GHP system "Architectures" like Underground Seasonal Thermal Energy Storage (USTES) systems. Read more about our geothermal capabilities here.
Other Engineering Services
Existing facility mechanical/electrical system evaluations/studies
Operation and maintenance (O&M) procedure reviews
Life cycle cost analysis (LCCAs)
Energy analysis and audits
Utility evaluations and studies
Construction and cost estimating
Bid evaluations
Construction administration and management
Bidding phase services including reproduction
Agricultural engineering (facility and process design services)